Get to know Cinnamon, famous as the stronghold of Buda brunchers, and immerse yourself in the abundant selection of all-day breakfasts!
Cinnamon is located in the frequented part of Buda, a few minutes' walk from Batthyány square or Széll Kálmán square, at Csalogány utca 21. In the place of the restaurant, there used to be a corner general store, the reconstruction of which required a lot of work and planning, but in May 2017, the Cinnamon Buda, which is still very popular, was successfully opened.
At that time, the concept of brunching was even less known, and the number of places offering all-day breakfast was small. Cinnamon was one of the first on this topic, in the beginning mainly typical breakfast dishes were available, such as Hungarian scrambled eggs, Vienna hot dogs, soft-boiled eggs or omelets. Over the years, the Cinnamon team got a lot of inspiration, and their menu was constantly perfected, with which they quickly won the hearts of Budapest residents and visitors from abroad.
Our last visit fell on a gloomy autumn weekday, which was made more beautiful by the beautiful panorama of Batthyány Square. And after our short walk, we arrived at Cinnamon, whose homely atmosphere and magical interior quickly captured us. We were happy to see that Cinnamon is really a popular place in Buda, where guests kept coming.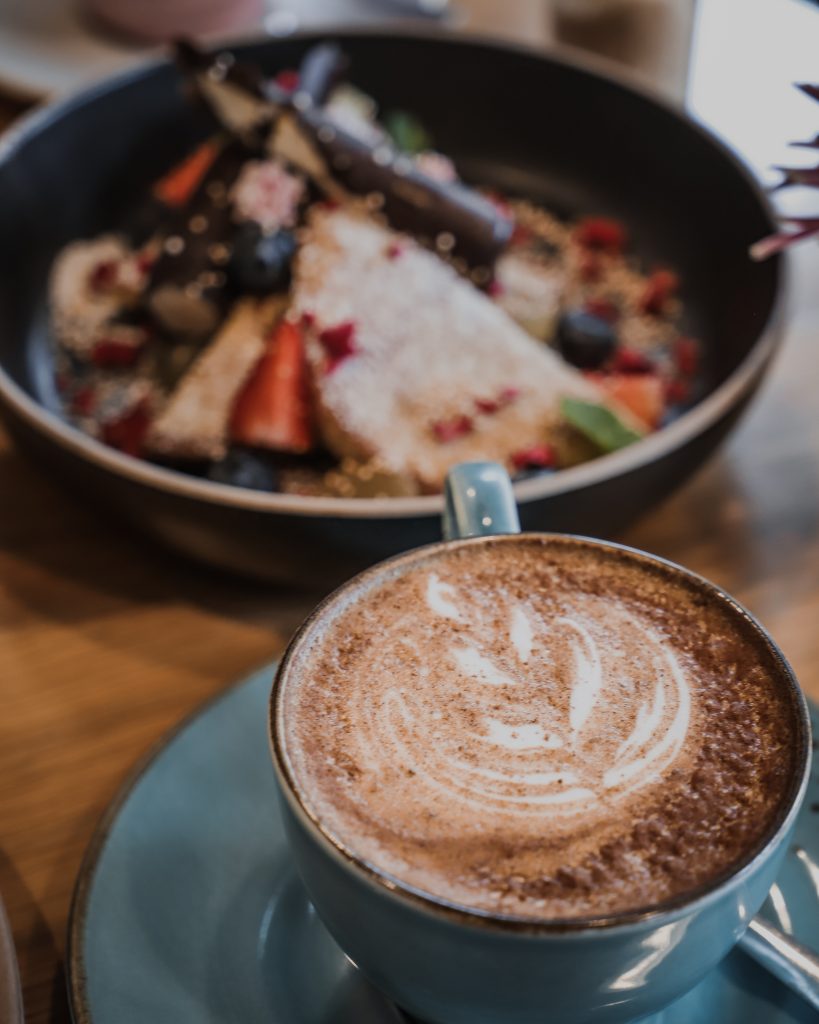 All-day breakfasts, tapas plates, coffees and cakes
Needless to say, apart from Cinnamon's impressive atmosphere, the menu at the breakfast spot is anything but average. Every day, the Cinnamon team welcomes its guests with fresh, locally baked baked goods and their own roasting 100% Arabica new wave coffee. The wide selection of the menu allows for a constantly renewed breakfast offer, so it is definitely worth visiting again and trying new dishes!
In Cinnamon, you can find a wide selection of typical breakfast dishes on the menu, but what is even more special is that they also offer vegan and other healthy dishes, so everyone will surely find their favorite! You simply can't make a bad choice here, every dish is served with care, and their flavors create a perfect harmony.
During our last visit, we tried a Burrata Toast and a Cinnamon shortbread. The taste of the Burrata Toast was really incredible: the combination of grapes and tomatoes went well with the burrata with za'ata and the creamy basil pesto. And the pine nuts were just "icing on the cake".
When thinking of bundáskenyér, many of us surely think of the home recipe – it is true that we are not talking about a dish that is difficult to prepare, but everyone has their own custom of who serves and eats it. Well, the Cinnamon team also has a recipe for the casual. The fur bread was served with smoked ham and parmesan cheese together with sour cream with truffles.
And for dessert, we chose a real calorie bomb: American pancakes with nutella, cottage cheese bars with fresh seasonal fruits and hazelnuts.
If you want to experience the brunching experience yourself, we highly recommend Cinnamon, as you are guaranteed to find a dish on their menu that will make you want to return several times.
And if you come here on the weekend, we recommend that you book a table here.