Welcome to Budapest, a city renowned for its stunning architecture, rich history, and thriving café culture. Among the array of coffeehouses in this enchanting city, a hidden gem awaits you near the iconic St. Stephen's Basilica – Conte Cafe Basilica. Prepare to indulge in a unique coffee experience that combines the finest South American beans with the decadence of handmade chocolate waffle cones.
At Conte Cafe Basilica, the name itself speaks volumes. Derived from the Italian word "Conte," meaning "With you," this café aims to share the extraordinary experience of coffee with its visitors. Nestled in the heart of Budapest, it offers a wide selection of delicious coffees that promise to tantalize your taste buds.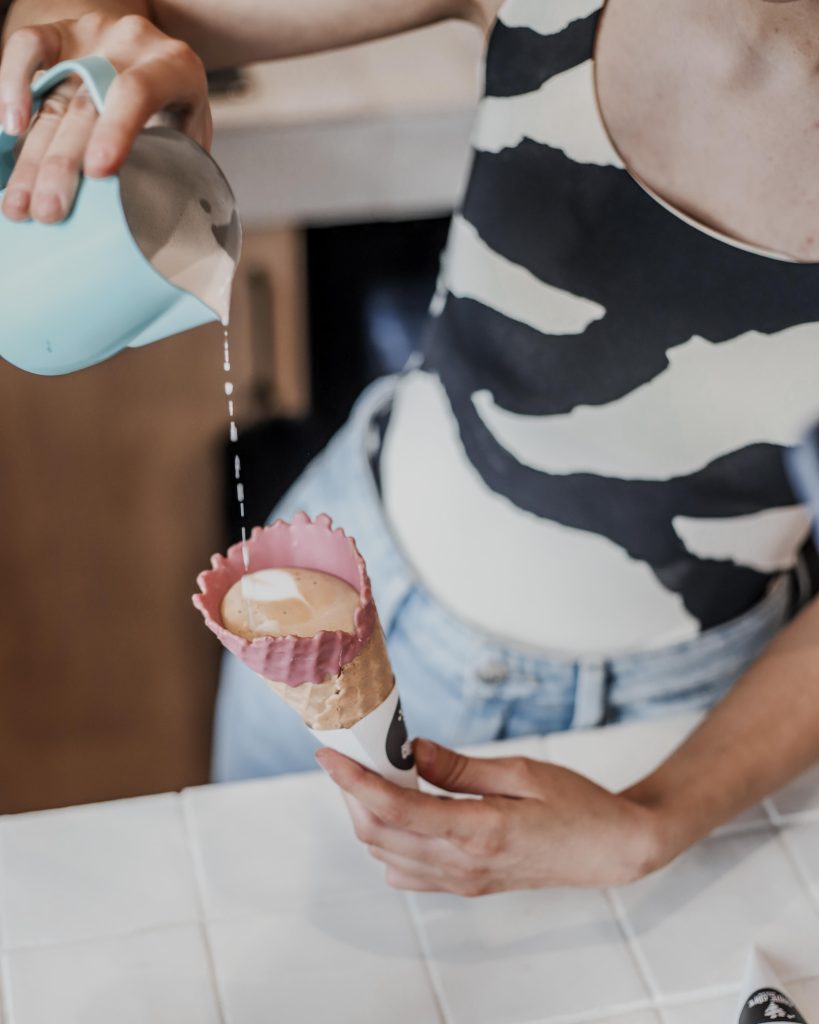 One of the café's standout offerings is the ConTeCcino, an absolute must-try. This exquisite creation features Budapest's best coffee served in a homemade Belgian dark chocolate, white chocolate, milk chocolate or rhuby chocolate waffle cone.
The combination of a smooth espresso with a touch of milk foam, infused with the rich flavors of premium chocolate, creates a delightful sensory experience that will leave you craving for more.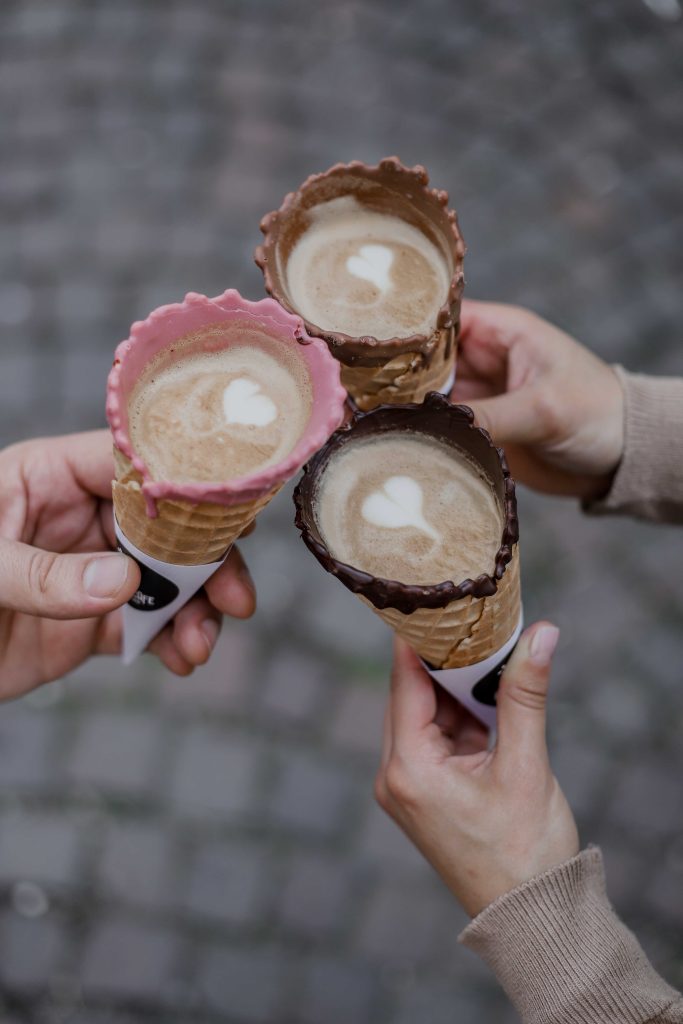 For those who prefer a caffeine-free alternative or are visiting with children, Conte Cafe Basilica has you covered with their BabyConteCcino. This delightful drink is made with milk or plant based milk, transformed into a fluffy milk foam and flavored with a hint of cinnamon or cocoa. Children and adults alike can relish this treat served in a waffle cone, creating a memorable experience for the whole family.
Vegetarians and vegans need not worry as Conte Cafe Basilica offers a 100% vegan option as well. Indulge in the dark chocolate conteccino made with alternative milk, ensuring that everyone can savor the chocolate and coffee goodness guilt-free.
In addition to their renowned coffee creations, Conte Cafe Basilica has expanded their menu to include refreshing ice creams.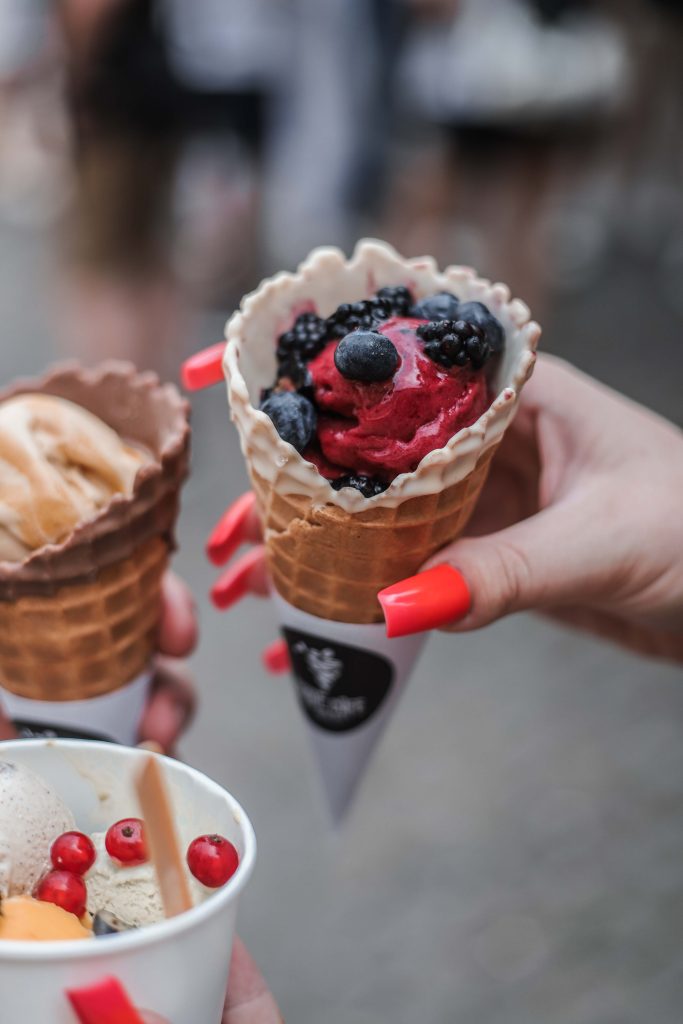 Imagine indulging in premium-quality, cold ice cream served in a delectable chocolate waffle cone. The combination of creamy flavors and the crunch of the chocolate coating offers a truly irresistible treat. The ice creams are provided by Cloud9, so you can get the usual, high-quality ice creams here, including ice creams with special flavors, as well as vegan and lactose-free options. Whether you choose a vegan or lactose-free option, the ice cream experience at Conte Cafe Basilica will leave you feeling refreshed and satisfied on a hot summer day.
You can find Conte Cafe Basilica at 1051 Budapest, Sas utca 11. Located near the magnificent St. Stephen's Basilica, this charming café is perfectly situated for you to take a break from exploring Budapest's treasures and indulge in a heavenly coffee and confectionery experience.
Conte Cafe Basilica has become a must-visit destination in Budapest, enchanting locals and tourists alike with its unique offerings. From the decadent ConTeCcino served in chocolate waffle cones to the delightful BabyConteCcino for children, there is something for everyone to enjoy. Whether you're a coffee enthusiast, a chocolate lover, or simply seeking a memorable culinary experience, Conte Cafe Basilica is ready to welcome you with open arms and aromatic delights.
So, when you find yourself strolling through the streets of Budapest, make sure to carve out some time to visit Conte Cafe Basilica. Indulge in the most delicious coffees, savor the handmade chocolate waffle cones, and immerse yourself in the sweet moments that this café has to offer. Your taste buds will thank you, and you'll leave with cherished memories of a truly exceptional café experience in the heart of Budapest.