Unforgettable experiences are best shared with friends. Whether it's watching a match, dancing, or playing an adventurous board game, Budapest's newest bistro pub is the ideal venue for any occasion.
High Five bistro pub is located in the centre of Budapest, near Deák Ferenc Square. In the bustling downtown environment, the bistro is a pleasant place to relax: with its sophisticated design and helpful service, guests will quickly like the bistro too!
And based on the experience of our last visit, we can't refute that. The service was immensely kind and attentive, and we even received detailed descriptions of most of the drinks and dishes. And the design of the bistro reflects the high quality of the work, where a lot of attention has been paid to detail and harmony of colours.
Magenta flamingos, specialty cocktails and stylish interiors – This is the High Five Bistro Pub
From August, the High Five team will be offering a revamped menu and drinks menu.
The menu includes crispy snacks, starters and street food burgers, as well as new Hungarian-inspired dishes such as chestnut puree with plum cream, rustic farmhouse chicken breast, marrowy bone with parsley oil, marinated onion or the ever-classic beef stew.
Cocktail oasis in the heart of the city centre
The wide range of the bistro's drinks menu could be presented in a separate blog post. The High Five offers all kinds of drinks, from craft beers in bottles, to Ronnefeldt teas and coffee specialities.
Another speciality of the wide range of gins on offer is the selection of Hungarian artisan gins, which are perfect on their own or paired with a nice tonic. And for those looking for something a little sweeter, we recommend High Five's signature cocktails, which feature exciting ingredients such as lychee liqueur, marshmallows, cotton candy and explosive sugar.
At High Five, you're sure to find the best cocktails in Budapest just waiting for you to try! Whether you're just having a casual get-together with friends, or a birthday party, or you're surprising your partner, High Five in Király Street is the perfect option for any occasion!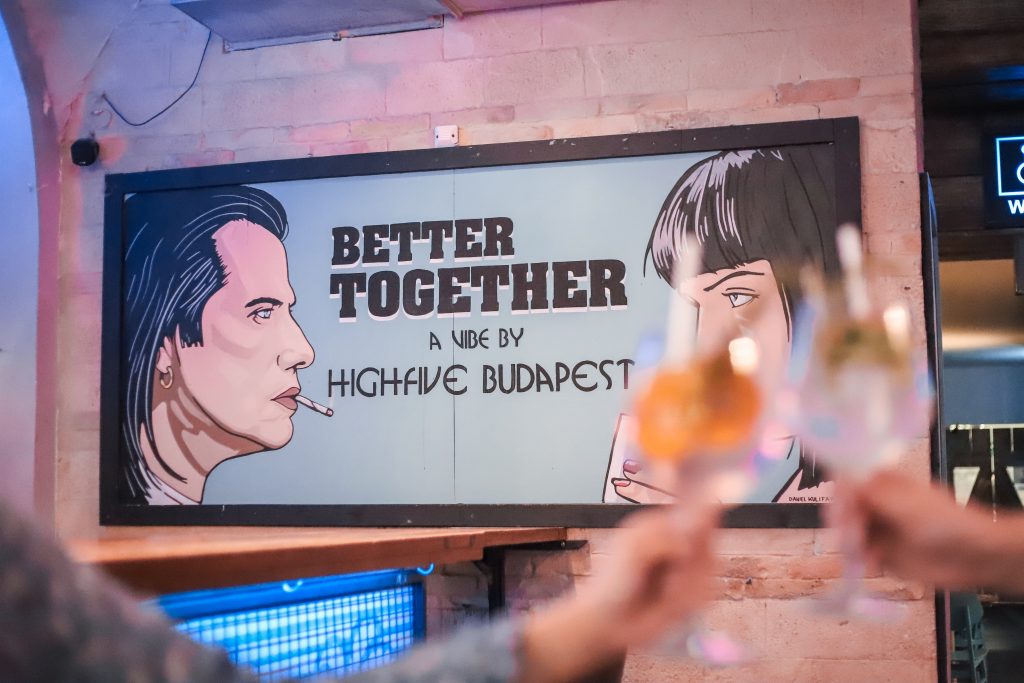 High Five Budapest
1075 Budapest, Király utca 15.
https://highfivebp.hu